Melasma Symptoms, Causes, Diagnosis and Natural Treatment
Natural Treatment for Melasma
Melasma is an uncomfortable condition suffered by numerous females of all skin types and colors. Frequently the first recommendation for sufferers of hyperpigmentation and melasma is to buy an over the counter bleaching skin cream for skin whitening containing hydroquinone. Hydroquinone is the skin whitening agent of these creams. Before opting for such treatments bear in mind they may have side effects. Instead, you can check your kitchen cupboards and refrigerator for natural ingredients that can be used at home to treat melasma. Natural Treatment for Melasma will help you restore your skin color without side effects.
Unfortunately, what most women using these skin bleaching products don't know is that they are unsafe enough to have been banned in many places, including parts of Europe and all of Asia, due to the belief that higher concentrations are carcinogenic. Hydroquinone has been connected with severe side effects, some affecting the liver, kidney, and thyroid. In some cases, it can cause a permanent black discoloration called exogenous ochronosis.
Symptoms of Melasma
Darker patches of skin come out on the temples, forehead, and cheeks or above the upper lip. The Symptoms of Melasma are strictly cosmetic — you won't feel ill, and the darker skin won't be sore.
The symptoms of melasma are:
Dark brown or tan patches
Appears as dark or irregular patches
Distributed on cheeks, sides of the nose, forehead
Irregular in shape
The symptoms of melasma are dark, irregular well demarcated hyperpigmented macules to patches commonly found on the upper cheek, upper lip, and forehead. Melasma does not cause any further symptoms beyond the makeup discoloration. Melasma is as well common in pre-menopausal women. It is thought to be enhanced by surges in certain hormones.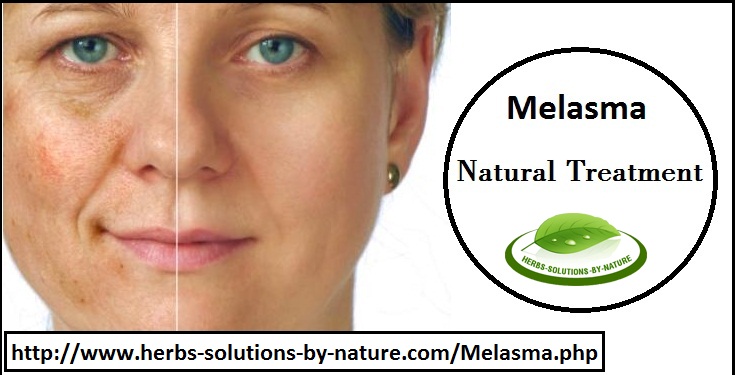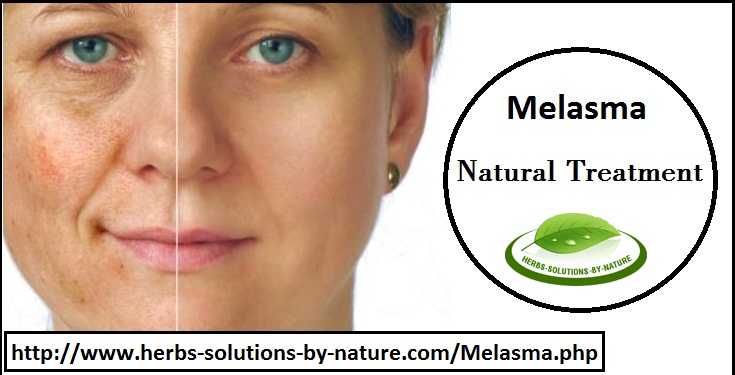 Causes of Melasma
There are various possible underlying Causes of Melasma and acne. The thyroid is not forever the cause. Even though research has not been able to conclusively pinpoint the exact causes of melasma, some common triggers are the following:
Heredity and hormone fluctuations, mostly during pregnancy. The brown patches across the forehead and cheeks are frequently called the "pregnancy mask".
Prolonged sun exposure will activate melasma if you have a genetic predisposition for it, so wear sunscreen all day.
One more cause for this skin condition is the use of oral contraceptives or medications like tetracycline or anti-malarial drugs derived from quinine.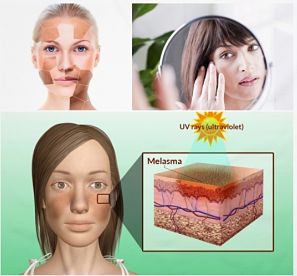 Diagnosis of Melasma
Melasma must be differentially diagnosed with post-inflammatory hyperpigmentation and actinic lichen planus, which are somewhat alike conditions.
The Diagnosis of Melasma is done with the help of a Wood's lamp (340-400 nm wavelengths). The affected area is carefully studied with excess melanin in the epidermis.
Herbal Treatment for Melasma
There are a number of Natural Remedies for Melasma that are not right for pregnant women and seeing as numerous melasma sufferers are indeed pregnant, the safer treatment option is needed. If you don't want to wait until after pregnancy for a cure, consider these Home Remedies for Melasma.
Melasma Natural Treatment can include:
Bleaching cream contains hydroquinone as well as tretinoin cream which fades melasma but this should stay away from during pregnancy.
Use fruit cream containing fruit acid, lactic acid, or glycolic acid.
Avoid sun exposure for long periods.
Utilize sunscreen creams and lotions every day.
Utilize only cleanser or mild soaps for washing face.
Apply bleaching creams on the area which is affected for 6-8 months.
Laser treatment can help to remove skin discoloration.
A cosmetic which camouflages is also helpful.
Protect skin from the sun with sunscreen with SPF 8 or above.
Stopped the use of creams, make-up, facial cleansers or lotions which may irritate your skin.
Chemical peels, microdermabrasion, or laser surgery can as well help to treat melasma. Utilize facial peels with alpha-hydroxy acids or chemical peels with glycolic acid.
Use Retin-A cream before bedtime to the affected area – this is an effective and safe method.
Use powerful, lightening cream which is natural and contain antioxidants for the skin.
Utilize calamine as moisturizing lotions as well as an extract that is soothing to defend skin after successfully curing melasma.
Take supplements of anti-oxidant, for example, Pycnogenol tablets 25 mg with meals 3 times every day can increase results of any Melasma Treatment.
Herbal Supplement for Melasma
Melasma is a condition that is benign and does not generally require treatment but if it becomes bothersome, the person should see their primary care physician. Natural Treatment for Melasma is necessary for some people who suffer from major symptoms.
So, now that you know the effective "Melseton" Herbal Supplement forMelasma Natural Treatment use them as directed and get freedom from ugly melasma spots, pigmentation, age spots, and acne scars naturally.