Natural Treatment for Emphysema, Herbs and Natural Essential Oils
Emphysema affects the respiratory system and is frequently connected with firsthand smoking; therefore, it's essential that all patients suffering emphysema symptoms stop smoking and seek out ways to treat the disease physically. And detoxing can be a powerful weapon in smoking cessation, which will in turn help stave off emphysema symptoms and signs. Stop smoking is considered important to fighting emphysema and for those who prefer to go the natural route. Natural Treatment for Emphysema that can help you quit.
Emphysema is part of a lung disease recognized as COPD. Minimally 75% of all cases of emphysema happen in cigarette smokers. Emphysema is about ten times more common than lung cancer with predicted 1,600,000 patients with the disease in the U.S. A lot of patients with cancer of lung have emphysema as well. Far and away cigarette smoking is the number-one cause of emphysema, cancer of lung and lung failure.
Symptoms of Emphysema
The Symptoms of Emphysema include shortness of breath, cough and low exercise tolerance. In some cases, the person may also suffer from a viral fever as well. Emphysema symptoms usually worsen as the disease progresses. These Emphysema symptoms may include:
Chronic coughing
Wheezing
Shortness of breath
Continuous production of mucus
Tightness in the chest
Reduced capacity for physical activity
Poor appetite
Fatigue
Weight loss
The most common symptoms of Emphysema disease are breathing problems, which is as well often referred to as dyspnea. Often the individual also suffers from coughing and wheezing. There can be some sputum too with the cough.
Causes of Emphysema
The Main Causes of Emphysema include…
Immunity related problems can as well cause emphysema.
Tissue relates illnesses such as the Marfan syndrome or the Ehlers-Danlos Syndrome can also make a person become a victim of the disease.
The disease can also be caused because of a genetic predisposition. Known as the deficiency of alpha 1-antitrypsin, this is, however, a rare condition that is caused when there is a deficiency in chemicals that offers protection to the lungs.
Sometimes a person becomes a victim of the disease with age. With age, the elastic nature of the lungs goes down and this is one cause of emphysema.
The disease can be caused by other factors too in those countries that are not that developed. For example, smoke emanating from cooking from indoor stoves is known to have caused it among many.
Intravenous drugs can also cause emphysema because they can make the lungs toxic.
Excess smoking swells the lung cells and this inflammation affects the bronchioles within the lungs.
Besides, proteases that are enzymes as well get activated. When activated, these enzymes destroy the lung tissues.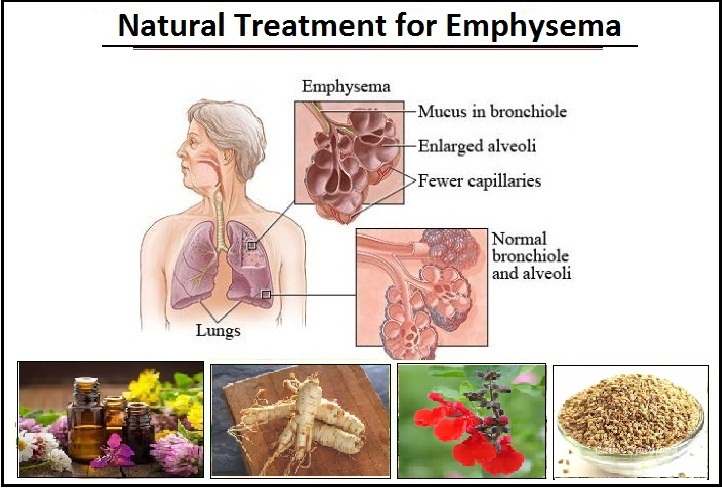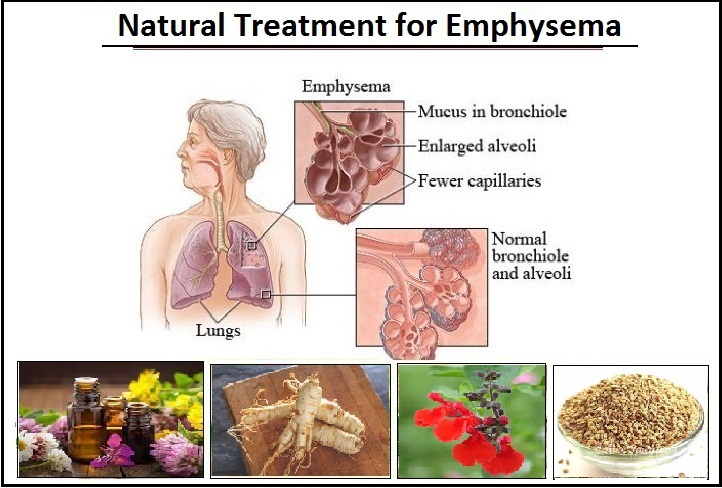 Natural Treatment for Emphysema
For patients suffering from emphysema, certain lifestyle changes and Natural Treatment for Emphysema will help reduce the progression of the disease and from any complications. Therefore, if you find yourself suffering from any of the symptoms, it is wise decision to stick to Natural Remedies for Emphysema as they are natural and can be used for long durations without risking your health.
Herbs for Emphysema
Herbs for Emphysema like ginkgo Biloba, a Chinese herb commonly recognized for its various health benefits, may strengthen lungs. N-Acetyl-Cysteine is commonly used to help liquefy mucus in cystic fibrosis, which may help people who are experiencing mucus-related symptoms as well. Health care professionals sometimes recommend grape seed extract, which is believed to protect smokers from more cell damage.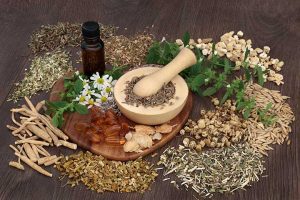 Ajwain for Emphysema
Ajwain is an herb that belongs to the family of Apiaceae. This herb comes from Egypt and it spreads to India. A human can eat fruits and leaves to get better health as well as treat some diseases like COPD. Natural Treatment for Emphysema you can chew ajwain leaves each day. In this way, you can clear congestion, damage lung functions, and lessen cough.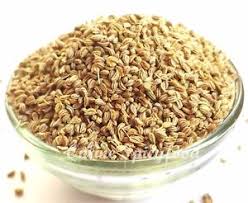 Red Sage for Emphysema
It has been found in certain studies to be an effective antioxidant and to help protect the lining of blood vessels from injury when oxygen is temporarily cut off and then resumed. For people who have low blood oxygen levels, red sage could offer some protection.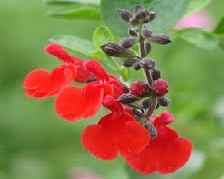 Ginseng for Emphysema
Ginseng has been known as an essential and extremely helpful herb for a lot of diseases including emphysema. The herb is available in different species, and several of them have proven to be of great use in treating emphysema and other respiratory disorders.
Ginseng can also relax you and act as a potent anti-inflammatory agent to alleviate your breathing difficulties. Add ginseng powder to your daily meals or try making a delicious herbal tea in order to enjoy its benefits.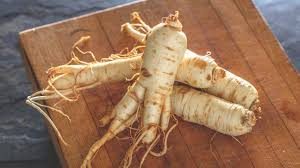 Natural Essential Oils for Emphysema
Eucalyptus oil is a Natural Essential Oils used in part for its medicinal properties. There are a variety of uses for it, but it has been proven helpful as a Natural Treatment for Emphysema respiratory problems. People with asthma use it as a comfort to dilate blood vessels and get better oxygen flow. Other research has shown eucalyptus is helpful for those suffering shortness of breath and increases lung capacity. Its main compound, cineole, is said to help stop inflammation of the airways.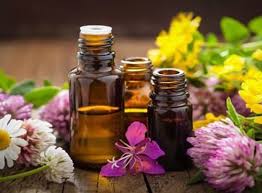 Natural Cures for Emphysema
Though, the Natural Cures for Emphysema may ease the condition and help to prevent further damage:
Give up smoking and keep away from situations where you may inhale other people's smoke.
Avoid foods that produce excess mucus, including milk except for skimmed milk in tea, cheese, yogurt, ice cubes, iced water, bananas, ice cream, spicy food, and citrus fruits.
Keep away from products containing yeast for example bread, pasta, pizza, wine, vinegar, beer, Marmite blue cheese, and mushrooms, particularly if you have taken some courses of antibiotics for bronchitis.
Avoid exposure to cold, damp places and try to be in warm, dry climates as much as possible.
Take two to three cups of Winter Tea or Liquorice Tea every day with one teaspoon of manuka honey.
Have a healthy eating habit and that too in a number of small meals by chewing it properly.
If you have a bad cough, take one teaspoon of Buttercup Syrup in warm water daily for a week.
Consuming 800gms of magnesium per day assist in clearing air passages due to its antihistamine properties.
Related Information:
7 Natural Remedies for Emphysema and Manage Your Life at Home
Natural Remedies for Emphysema and Healthy Eating Help to Manage Symptoms
Hysmeton Herbal Supplement for Emphysema Natural Treatment
Exclusive Information about Emphysema Symptoms, Causes Diagnosis and Natural Treatment
9 Natural Treatments for Emphysema to Recover Lung Function
7 Emphysema Herbal Remedies and Hysmeton Herbal Supplements
All There Is To Know About Emphysema