How to Get Rid of Dead Skin Cells at Home
Are you dissatisfied with the appearance of your skin? With time, your skin sloughs off dead cells, making it seem drab and darker. It occurs as the normal skin cycle slows down with age, accumulating dead skin cells on your skin, giving it a dark and dreary appearance. Due to accumulation, your skin will also be more prone to blemishes and fine wrinkles.
Cleaning your skin with soap and water is insufficient to remove the layer of dead skin; you must exfoliate your skin regularly to restore its softness and smoothness. For all skin types, exfoliation is important. You should exfoliate your facial skin and the rest of your body, especially darkened regions like elbows, knees, and feet.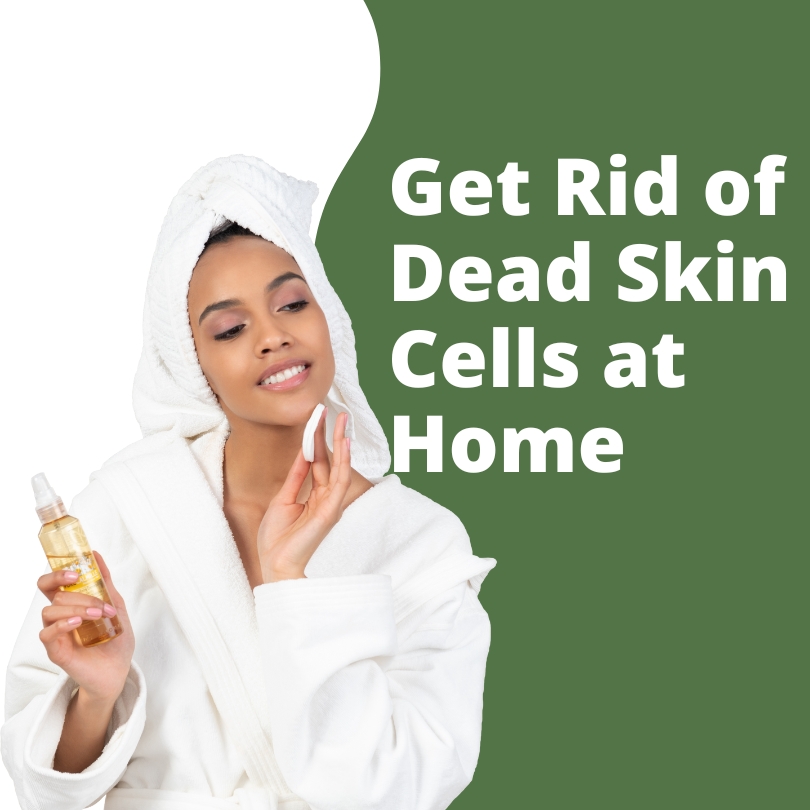 Though many solutions are on the market to remove dead skin, you do not need to use chemical-laden ones. Natural substances found in your kitchen cupboard can help you get rid of dull skin and reclaim your youthful shine. These home treatments will assist you in removing dead skin cells from your body.
Use Coffee Scrub
Coffee grinds work well as an exfoliate to remove dead skin cells. Coffee is also high in flavones, which enhance skin texture and help retain a healthy shine when applied straight to the skin.
Use Orange Peels
An orange peel scrub can assist in removing dead skin cells and grime from your skin and renew it. You must preserve the orange peels and dry them in the sun for a few days to use them as an excellent exfoliate. Make a powder out of them and store it in an airtight container.
Sugar and Olive Oil
You may use a combination of sugar and olive oil since the sugar particles will exfoliate dead skin cells while the olive oil will hydrate the skin. You may also use it to get rid of darker lips on your lips.
Use Oatmeal Scrub
Your morning staple's granular texture may be used as an exfoliate. Oatmeal's gritty and granular texture removes dead skin effectively on all skin types. It will remove the dead skin that has accumulated and excess sebum and other pollutants. It also helps to keep the skin hydrated.
Use Almond Scrub
Almonds are high in the antioxidant vitamins A and E, so eating them is a smart idea, but you can also use them in your beauty routine by preparing an almond scrub. Almonds will leave your skin appearing healthier and more youthful.
Use Gram Flour
Another component that It may find in your kitchen cupboard is grime flour, sometimes known as Besan. It is an excellent exfoliate for your skin, leaving it smooth and bright. Besan will help you eliminate the extra oil if you have oily skin. As a result, acne, pimples, and blackheads are avoided.
Avocado Seed
Avocados are extremely beneficial to your skin. It also aids in the removal of excess sebum from the skin and the nourishment of damaged skin. The avocado seed may also be an exfoliate to remove dead skin cells.
Dry Brushing
Dry brushing is a good approach to get rid of dead skin cells. Dry's brushing is a great way to remove dead skin cells and open pores. Not only will you be able to get rid of dead skin cells, but it will also tighten and enhance the texture of your skin.
Other Skin Disease Supplements
Skin diseases can be a source of discomfort and embarrassment for many people, and conventional treatments often come with unwanted side effects. That is where Skin Disease Supplements come in, offering natural and effective alternatives to traditional treatments. Our Herbal Supplement for Actinic Keratosis contains natural ingredients such as turmeric, green tea, and resveratrol, which reduce inflammation and promote healthy skin. Our supplement targets the underlying cause, promoting healthy skin regeneration and reducing the risk of future complications.
Similarly, our Herbal Supplement for Granuloma Annulare is formulated with natural ingredients such as neem, turmeric, and aloe vera, which help to reduce inflammation and promote healthy skin. Granuloma Annulare is a skin condition that causes red, raised bumps to form in circular patterns. Our supplement targets the underlying cause, relieving this condition's symptoms.
At Skin Disease Supplements, we understand the importance of natural and effective solutions for skin conditions. Our herbal supplements are designed to provide long-term relief without the unwanted side effects of conventional treatments. Try our supplements today and experience the power of nature in supporting healthy skin!