Food & Recipes
8 Quick and Tasty Healthy Food Recipes That Will Make You Drool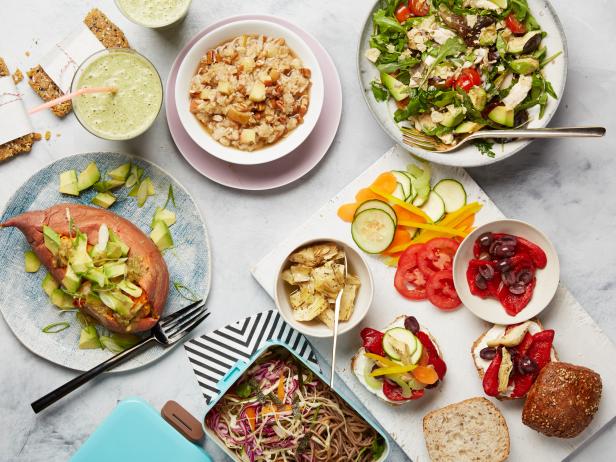 Now that you've started learning how to eat healthier and incorporate more fruits and vegetables into your diet, it's time to start incorporating some quick and tasty healthy food recipes into your weekly meal plan. Healthy food recipes don't have to be boring or bland — these 8 quick and tasty healthy food recipes will make you drool with delight! Check them out, and then get started on the ones you want to try ASAP!
1) Macadamia, Banana and Vanilla Smoothie
This is an amazing smoothie that you can drink after a long day at work or school. It has an exquisite flavor, while also being very filling. The macadamia nuts give it some texture, while also giving it a slight crunch. This smoothie will fill you up with only 140 calories per serving. If you want to make it vegan-friendly, swap out honey for agave nectar. For some additional protein, add in half of a scoop of vanilla protein powder (without added sugar). And if you don't have macadamia nuts on hand, any other nut or seed would work as well – just keep in mind that your smoothie will taste slightly different. Macadamia nuts are delicious!
2) Salmon and Broccoli Bowl
Mix together 4 ounces of canned pink salmon, 3 cups of broccoli florets, 2 tablespoons of low-sodium soy sauce, 1 teaspoon of olive oil and a pinch of freshly ground black pepper. Mix in half a chopped green onion. Serve with brown rice or quinoa. Microwave for 5 minutes on high. Enjoy!
3) Avocado, Orange and Edamame Salad
Serve up a refreshing mid-day meal with a combination of healthful ingredients such as avocados, edamame, orange segments, parsley, mint and lemon juice. This tasty dish will give you sustained energy for hours to come. Since it's low in fat but rich in fiber and other nutrients, it can help to lower cholesterol. Avocados are loaded with heart-healthy fats (which is why they're often recommended for people who have high cholesterol). To reduce inflammation in your body, include foods such as avocados and edamame (when available) in your diet on a regular basis. Consider adding chopped avocado or avocado oil to smoothies or salads for an extra nutrition boost.
4) Chia Seed Pudding with Blueberries
Chia seeds are tiny, but they pack a lot of punch. They contain omega-3 fatty acids and antioxidants, both of which have been shown to benefit heart health. They also provide protein, calcium, and iron—as well as dietary fiber—which help keep you full longer so you're less likely to snack between meals. Plus, chia seeds make a great egg replacement in vegan baking recipes (and can be used in non-dairy milk). Try them sprinkled on top of oatmeal or yogurt for breakfast or blended into your morning smoothie. For dessert?
5) Grilled Chicken and Tomato Stacks
If you're looking for healthy food recipes to use throughout your week, try out these Grilled Chicken And Tomato Stacks. They are quick to put together, taste amazing, and even have a few leftovers that taste great as mid-day snacks. This is an easy recipe to make with very few ingredients; you probably already have most of them in your refrigerator! Just make sure you use blocks of mozzarella cheese instead of shredded because it makes grilling easier later on. From start to finish these healthy food recipes take about 20 minutes to make.
6) Easy Cucumber Boats with Hummus
This recipe is a low-carb option for those who are looking to cut their calories without cutting taste. Cucumbers are filled with water, so they're naturally very low in calories—one cup of sliced cucumber has just 16 calories. At only 27 calories per slice, these cucumber boats are about one-fourth as caloric as your average sandwich bread. It's really easy to load up on veggies when you turn them into sandwiches; make sure to fill each layer with plenty of lettuce, spinach or arugula, tomato slices and avocado!
7) Chicken Thighs in Citrus Sauce
Chicken thighs are an ideal choice for healthy food recipes because they're affordable, flavorful, and versatile. In this recipe from The Apron Gal, chicken thighs are slow-cooked in a citrus sauce that's served over pasta. This chicken thighs recipe calls for jalapeno but can be substituted with green or red bell peppers for a milder dish. Adding fruit to savory dishes is a great way to infuse sweetness without relying on sugar—and it makes your meal seem less like diet food. Looking for more healthy food recipes? Check out our collection of quick and easy meals. (Post picture of some type of chicken thigh)
8) Oven Baked Salmon with Garlic Lime Aioli
If you're looking for an easy, delicious and healthy meal, look no further than salmon. These flavorful fish can be grilled or baked, depending on your preference—and they taste great with fresh vegetables like asparagus or zucchini! If you don't feel like going to a restaurant to get salmon, try baking it in your oven with citrus flavors. The result is a great-tasting healthy food recipe that everyone will love.
Publish By Herbs Solutions by Nature